BallaBee yogurt drink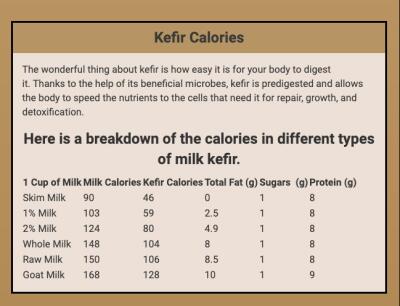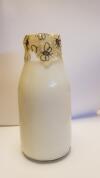 BallaBee Kefir yogurt is a cultured, fermented beverage loaded with probiotic health benefits. Made in The Isle of Man.

There is much confusion about the carbohydrate content on the packages of fermented food products. The government makes manufacturers count the carbohydrates of food "by difference." That means they measure everything else including water, ash, fats and proteins. Then "by difference," they assume everything else is counted as a carbohydrate. This is standard procedure.

To make fermented foods such as yogurt, and kefir, and other fermented foods the milk is inoculated with the lactic acid bacteria. These bacteria use up almost all the milk sugar called "lactose", and convert it into lactic acid. It is this lactic acid which curds the milk and gives that sour taste to the product. So the milk sugars that the government thinks is still in the product, are actually gone, it's been converted by these lactose loving bacteria. Since these bacteria have "eaten" most of the milk sugar by the time you buy it (or make it yourself) there are not many carbohydrates left. It is the lactic acid which is counted as carbohydrates.

Therefore, you can eat up to a cup of plain yogurt, buttermilk, or kefir and only count 2-4 grams of carbohydrates. Dr Paul Cotter. Kefir is 99% lactose free, which means all the milk sugars or lactose is mostly gone and this is why so many lactose intolerant people don't have a problem with kefir. One cup of yogurt will contain about 4 grams of carbohydrates. Kefir has about 1 since there is more bacteria in kefir to eat up the lactose.

Due to the current high volume of orders, we are experiencing brief delays with BallaBee Kefir yogurt.

We apologise for any inconvenience.
Price: £1.75